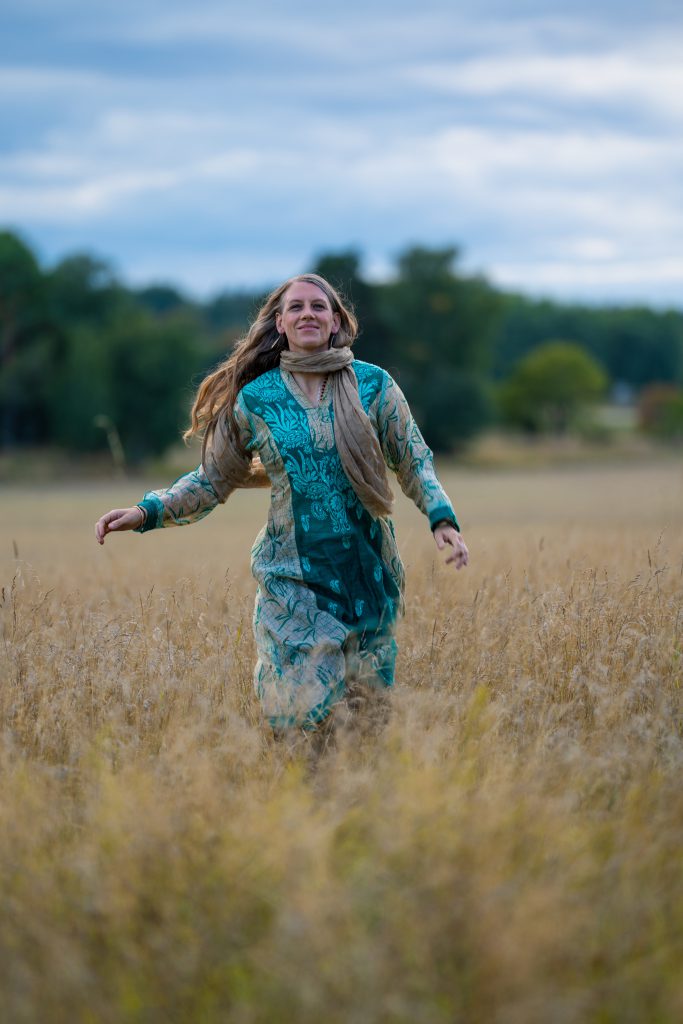 Born and raised in South Africa, Ajna participated in any activity that kept her outside until she went to ballet school at age 13. She moved to Vancouver for dance at 17 and was "adopted" into a musical Italian family. As a graduate of the School of Toronto Dance Theatre, she brings 25 years of dance and movement experience, to her practice.
Ajna started studying Thai Massage in 2008 and opened her practice in 2009. She intuitively combines different techniques based on neuroscience, biomechanics, anatomy, and more subtle techniques to bring the body into a more efficient and balanced state. This work helps restore the inherent integrity back into the system.
Ajna took Sannyas with Master Dhyan Vimal in 2012 and is an acharya for the DV Institute for Higher Learning. She participates in hosting weekly meditations and programs for personal growth and transformation in person and online.
For more information on treatment methods visit the Treatments page.
Photo: Mamad Hormatipur
Ajna's ability to read my body and provide the healing or support it needs is unbelievable! She is a truly gifted practitioner with a magic touch that goes beyond any method or technique     - Ashika
2019-01-05T19:18:19-05:00
Ajna Samadhi is a truly gifted practitioner with a magic touch
https://ajnasamadhi.com/testimonials/ashika/
Ajna has been treating me on and off for a few years. She is constantly learning new things and finding the best ways of helping me keep on top of my game                  - James
2019-01-05T19:20:21-05:00
Ajna Samadhi helps me keep on top of my game
https://ajnasamadhi.com/testimonials/james/
Ajna is one of a kind. She has a talent for reading bodies and seeing how each part is connected to the next. She's equipped that talent with bucketloads of knowledge both scientific and experiential. Even if I go for a session with her with something specific in mind, I always come out having gained more than I bargained for, often looking at things in a brand new way. It's a kind of magic                 - Robin Toller
2019-02-25T07:16:54-05:00
Ajna is one of a kind. She has a talent for reading bodies and seeing how each part is connected to the next. She's equipped that talent with bucketloads of knowledge both scientific and experiential. Even if I go for a session with her with something specific in mind, I always come out having gained more than I bargained for, often looking at things in a brand new way. It's a kind of magic                 - Robin Toller
https://ajnasamadhi.com/testimonials/531/
I have been seeing Ajna's for over two years. From our very first meeting she has been able to listen to my body and to respond to its needs on both a physical and energetic level. As Ajna has been incorporating more and more diverse modalities and approaches that ability she has on both a practical and energetic level has only phenomenally increased. I have not met a more accomplished therapeutic practitioner                 - Gregory Nye - Somatic Energetic Trainer
2019-02-25T07:12:31-05:00
I have been seeing Ajna's for over two years. From our very first meeting she has been able to listen to my body and to respond to its needs on both a physical and energetic level. As Ajna has been incorporating more and more diverse modalities and approaches that ability she has on both a practical and energetic level has only phenomenally increased. I have not met a more accomplished therapeutic practitioner                 - Gregory Nye - Somatic Energetic Trainer
https://ajnasamadhi.com/testimonials/529/
Ajna is professional, empathetic, and really makes a difference. Years of pain disappeared in minutes!     - Christine
2019-01-05T19:19:12-05:00
Ajna is professional, empathetic, and really makes a difference
https://ajnasamadhi.com/testimonials/christine/